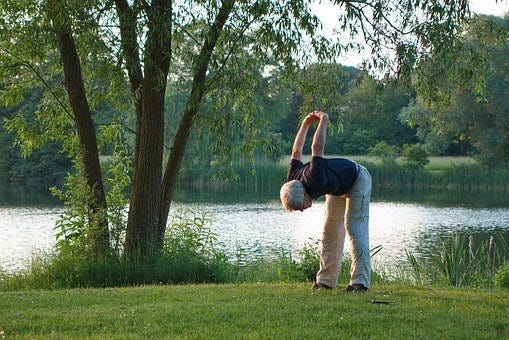 Resources
Below are some resources that we have spent the time to research and feel are beneficial in helping you decide what exercises are right for you. There are even some video exercises linked to help get you started.
CDC Recommendations
At least 150 minutes a week of moderate-intensity activity such as brisk walking.
At least 2 days a week of activities that strengthen muscles.
Elastic bands
In a study, by Huang (2018), he studies the effects of elastic-band resistance exercises on women who suffer from osteosarcopenia. He found that using resistance bands increased bone density, decreased fat, and increased the physical function of these women.
Water-based Activities
Warm-water exercises are beneficial in maintaining strength and in improving lower-body flexibility (Bergamin et al, 2013). Between warm-water and land-based activities, they found that the warm-water also increased weight loss, but more research needs to be done on it to confirm.
Yoga
In a study that looks at elderly yoga participants (Gonçalves et al, 2010), The researchers had found that the regular practice of yoga contributes to a higher range of motion, easier to perform tasks related to daily living, and improves in quality of life.
Walking
In a study looking at the effects of walking on coronary heart disease in older men, Hakim and his team (1999) found that regular walks were easier to maintain than structured exercise routines. The study did find that those that walk longer distances are less likely to develop heart disease.
Move Your Way
Attached in the link below is the poster for the Department of Health and Human Services. If you click on the link on the bottom of the poster it opens up with more information, tools, and videos on how to build an activity plan, motivational videos, fact sheets, and so much more.
Silver Sneakers
Silver Sneakers is an excellent resource to finding exercise classes. They also provide many articles on exercise, nutrition, and even just general health. This program is available for any person 65+ and is free through their Medicare or their health insurance.
Clark County Senior Centers
Attached is a website with all of the Las Vegas Senior Centers. These centers offer a wide variety of activities and classes either for free or a charge. The facilities are free to use and can be a great way to take some classes or even just meet new people.
Exercise Band Workout
Attached is a youtube video to utilize the resistance band. This workout is designed for seniors in mind so if you have a resistance band then try it out.
Bergamin, M., Ermolao, A., Tolomio, S., Berton, L., Sergi, G., & Zaccaria, M. (2013). Water- versus land-based exercise in elderly subjects: effects on physical performance and body composition. Clinical interventions in aging, 8, 1109–1117. https://doi.org/10.2147/CIA.S44198
Centers for Disease Control and Prevention. (2020, October 9). How much physical activity do older adults need? Centers for Disease Control and Prevention. https://www.cdc.gov/physicalactivity/basics/older_adults/index.htm.
Gonçalves, Leila Castro, Vale, Rodrigo Gomes de Souza, Barata, Neyber Joaquim Fontes, Varejão, Ronaldo Vivone, & Dantas, Estélio Henrique Martin. (2010). Flexibility, functional autonomy and quality of life (QoL) in elderly yoga practitioners. Archives of Gerontology and Geriatrics, 53(2), 158–162. https://doi.org/10.1016/j.archger.2010.10.028

Hakim AA, Curb JD, Petrovitch H, et al. Effects of walking on coronary heart disease in elderly men: the Honolulu Heart Program. Circulation 1999; 100 (1): 9–13

Huang, S. (2018). Effects of progressive elastic band resistance exercise for osteosarcopenia elderly women. Annals of Physical and Rehabilitation Medicine, 61(S), e333–e333. https://doi.org/10.1016/j.rehab.2018.05.779

Las Vegas Senior Centers. https://www.vegas4locals.com/resources/las-vegas-senior-centers/.
Take online classes from home or visit us at the gym With SilverSneakers, you're free to move. https://tools.silversneakers.com/.
Walk. Run. Dance. Play. What's your move? https://health.gov/moveyourway.